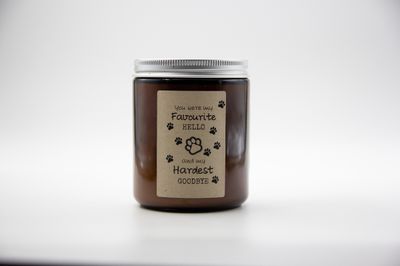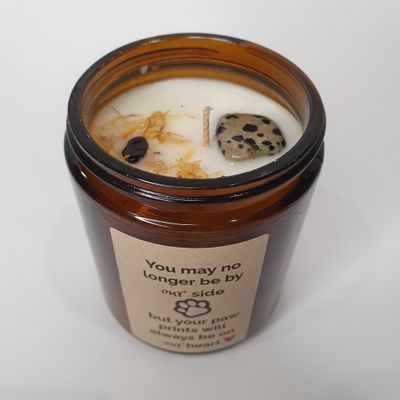 Pet Memorial Candle
Memorial Range
$32.50
A loss of a pet leaves a hole in your home and your heart. Pets provide us with unconditional love so when the time comes to say goodbye grieving is something that we will have to go through. Like with any grief we all have different ways of coping and processing the loss.
Remembering your pet by lighting a candle can help remind you of the light they brought to your life.
I recently lost my pet of 15 years and I felt so broken, but it was her time to go. Now when I want her near I just light my candle and talk to her like she is sitting right beside me.
For personalised messages please add your message at checkout.
Wicks are 100% natural. They are Zinc and Lead free.
Wax Weight: 200 grams
Burn Time: up to 52 hours
Dimensions: Height 88mm, Diameter 69mm.
Ingredients: Coconut Wax, Cotton Wicks, Fragrance Oils
Crystal and Botanical included
Dalmatian Obsidian with Calendula petals
Dalmatian Obsidian meaning– Loyalty to animals, highest respect to family, promotes calming and family ties.
SKU: 10093